With so many of us compelled to stay indoors for the longest time, Shaw Contract's Living Systems collection seems to have granted a wish we didn't know we had. Bringing in a unique sense of biophilia within an extensive range of carpet tiles, both Bruno Gomes of Dewan Architects and Amber Peters of Roar had no choice but to be thrilled with this introduction.

The latest addition to carpet manufacturing brand Shaw Contract's Cradle to Cradle CertifiedTM collection is a nature-inspired, wellbeing focused product that is designed to elevate the biophilic interiors game. Living Systems is a product that embodies regenerative design, drawing on the principles of sustainable manufacturing and biophilia. It, says Shaw Contract, is designed to engage, evolve and revitalise the senses as a toolkit of solutions.

"Being able to offer a flooring system that can be combined and recombined, mimics how the natural world is constantly renewing, regenerating and colouring environments as it progresses through time and space," says Marcy Ewing, Global Studio Design Director at Shaw Contract.

The brand has been a pioneer in sustainable manufacturing for over 20 years. It should be no surprise to see products of this calibre come out of their design studios. The sheer range of colours and patterns in the Living Systems collection signals interesting times ahead for the carpet tile and flooring industry in general, seen in the form of creative new designs and sustainable processes.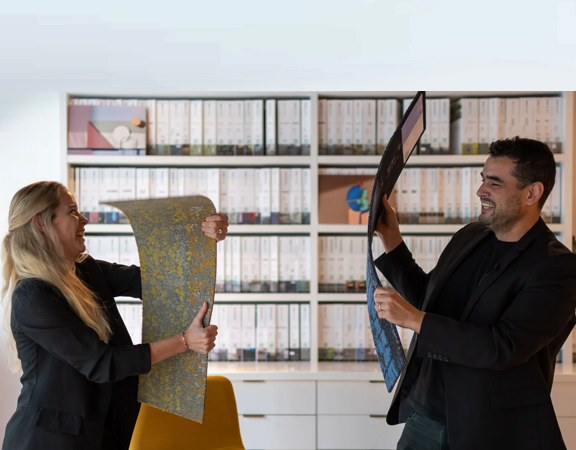 Above from right: Bruno Gomes, Senior Design Architect, Dewan & Amber Peters, Associate, Roar
"Biophilic and regenerative design is a large and critical component of Living Systems," says Christopher Champlin, Regional Vice President of Middle East and Africa at Shaw Contract. "It is what has guided the entire design process from start to finish. You can almost feel the ground and earth elements come through in the design and texture, and that's really what we've tried to achieve. That biophilic component is what makes all the difference because it really connects with us, and brings in a sense of comfort when we're indoors and disconnected from nature."

The first thing we notice when looking through the collection is the large and interesting mix of colours. The patterns are made to mimic natural contours, and the colours really do remind you of the randomness that you would only see in the outdoors. There are varying small and large scale patterns working together in an interesting way. The tones blend in a manner you wouldn't expect, yet succeed in creating that sense of comfort that you find with biophilic design. "It's a kind of perfect imperfection, and it's really nice to see," says Bruno Gomes, Senior Design Architect at Dewan Architects.
The collection features seven different styles in three main patterns: Observe, Respond and Transform. These offer a comprehensive range of neutrals, while Observe Color, Respond Color and Transform Color add on the beautiful vivid colours that you see in the images. For those looking for deep, saturated tones, you can opt for colours from the Endless style palette. "We have a total of 108 different colours and patterns, essentially giving us endless combinations to create and install," says Amber Peters, Associate at Roar. "I would have never mixed the warm and cool colours like the ones in this collection, but they work so well!"

To tie the entire collection together are two multi-level loop patterns – Source and Boundless style. Available in 18 colours each, these two styles can be effortlessly combined with the other styles to create a smooth and visually appealing transition. The flexibility offered by the entire collection allows shifts in colour gradation and pattern scale, thus giving designers a vast variety of floor design options to consider.