As building and construction activities continue unabated in the region, new trends are evolving within the realm of interior design and architecture. One of the most prominent outcomes of this upswing is the impact of design on the society at large and what ways in which it can enhance urban living.

Urban design for people underscored the discussion at the DesignMENA Summit Advisory Panel meeting, which took place at Dewan Architects + Engineers' office in Dubai Design District. Those who attended included Samer Touqan, projects director at Dewan; Sahar Fikree, founder and creative director of OCD Spaces; Lama Harb, associate director at JT+Partners; Duncan Denley, managing director at desert INK; Ahmed Bukhash, director of masterplanning at Dubai Creative Clusters Authority and founder of Archidentity; Christian Merieau, managing director and partner at MMAC Associates and Hilda Impey, design director at Wilson Associates.

The sixth edition of the symposium will take place on 5 December 2018 at the Grosvenor House, Dubai.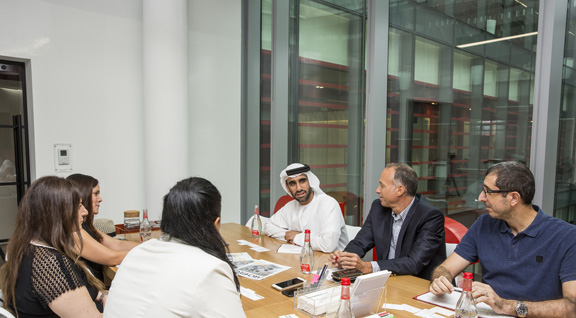 The designMENA Summit Advisory Board met at Dewan's office in Dubai Design District
OUTDOOR PUBLIC SPACES
Touqan kick-started the conversation with new developments in the emirate with a strong emphasis on outdoor areas. "Since the past few years, we've realised that we could make use of these outdoor areas," he said. "As a result, there has been an explosion in open-air destinations, such as Boxpark, Al Wasl Square, City Walk and La Mer, among others."

The members later pointed out that venues such as Boxpark are now struggling to stay afloat. "What are we going to do with such places that don't succeed, despite having been designed well with an interesting concept?" asked Touqan. Fikree opined that such developments are only tailored to boost social media popularity. "I call them Instagram developments that look great, and where you go to take photos and share on social media."
"Vernacular design is also sustainable. Building sustainably doesn't have to rely solely on technology." - Sahar Fikree
She continued: "Probably, the scale of their concepts is far too big. There is limited street furniture and no shading devices. All these components should be integrated into the design of the space, without having them as individual elements."

Mereiau felt that while it's good to borrow successful concepts that work well in other parts of the world, developers and designers shouldn't feel compelled to copy the entire narrative as is. "I think there is a lack of intelligent, locally relevant design which has a sense of architectural and cultural context that befits the city," he said. "Not only the clients, but even we, as designers, are guilty of churning formulaic design that may have been successful elsewhere."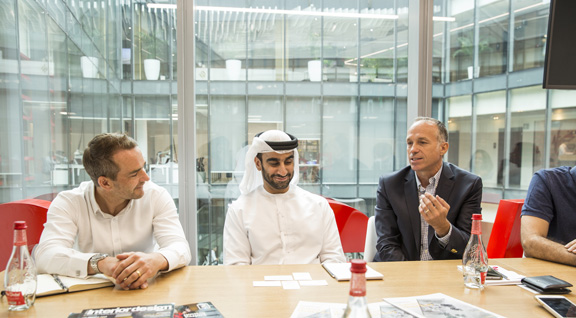 Duncan Denley, Ahmed Bukhash and Christian Merieau
Harb added that design and architecture also have to take into account the shape of the society that the public wants. "These spaces need to cater to teenagers, and people of all age groups," she said. "Most of these developments are always graded from a commercial point of view."

Bukhash shared that even though authorities review masterplans, it is important to collect feedback from these developments both at the conception stage and after they have been built. "The end-users, both local and expatriates, should be able to provide feedback on the projects that they are ultimately going to live in," he stressed.

According to Touqan, many buildings in Dubai are reaching a stage where they require refurbishment, open communal spaces can and should be incorporated into them. "There is no refurbishment legislation in place right now," he said. "A well-crafted regulation with respect to redevelopment projects will address a lot of these issues."
DOWNSIZING – THE NEW URBAN TYPOLOGY
Fikree said that affordability plays a big part in the urban development of the city. "The expatriate population has increased, and we just have the funds our ancestors had access to," she said. Bukhash responded that the driving force here now is efficiency. "It's no longer about the 300m2 units. Residential and even hospitality units are now moving into the direction of affordable real estate that is economically viable."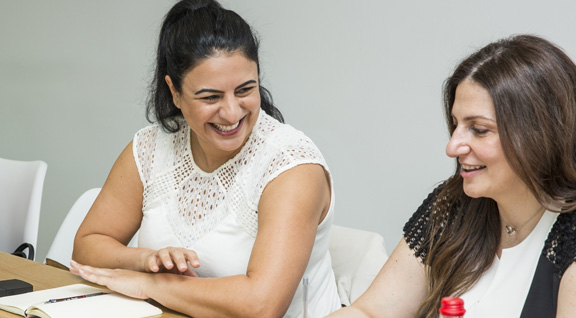 Sahar Fikree and Lama Harb
However, Mereiau added that there is no harm in having expensive ideas or products. "Things have a value and we should be using them a lot longer," he said. "The compulsion to have lower prices is resulting in inferior quality with a [shorter] lifespan and [it's] destroying our society."

Touqan expressed his concern about the diminishing size in architecture, but Mereiau said that in the new developments, communal spaces are already being incorporated, which mitigates the shrinking indoor spaces.
CONTEXTUAL IS SUSTAINABLE
Impey linked the idea of building social spaces to express the context, such as the climate and local materials. Vernacular and indigenous architecture offers some good guidelines in this respect, the architects agreed. "We're not building on our history, instead we are bringing in global typologies which are not relevant to this place," Fikree said. "Vernacular design is also sustainable. Building sustainably doesn't have to rely solely on technology."

All panellists agreed that indigenous methods should be reinterpreted in modern design strategies. Mereiau said that designers should avoid being gimmicky while creating sustainable spaces. "There is a blurred line between gimmicky and sustainable," he noted.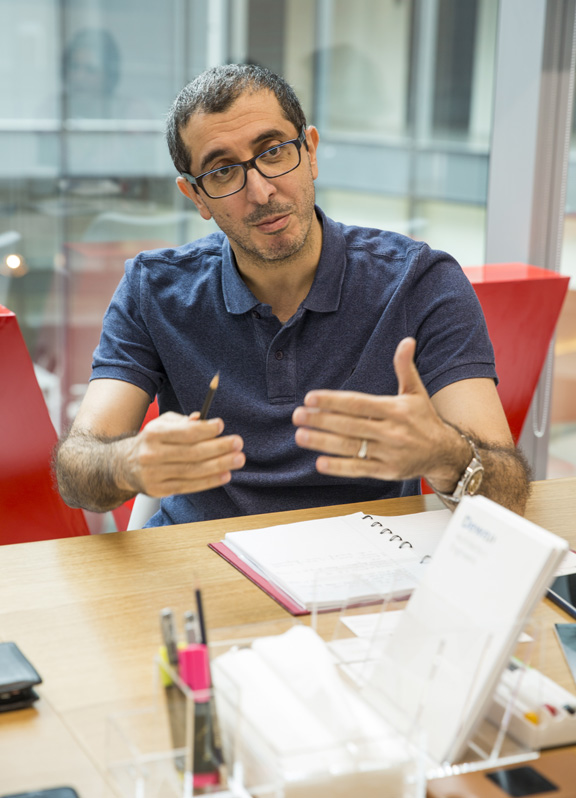 Samer Touqan
Denley said his practice is particularly interested in using local materials, but such an approach is not always the case among other firms. "There is a big disposition that any material from overseas is better," he said. "This is an issue about educating clients. Often, we lack the numbers and the date to back up what we believe in."

He added the oft-used term biophilic in this region has to be interpreted in the local context. "We do not need to have green roofs and walls to have biophilic design; that's very superficial. We can find nature around us, in not just materials but also patterns. That is what biophilic design is."