As Vietnam strives to become one of the prosperous nations in Southeast Asia, the role of foreign consultants in the development of Vietnamese architecture becomes increasingly important. With the rapid development of the country's economy, more and more units are looking for architectural solutions that better suit the needs of users. As one of the leading companies in the field of hotel design, Dewan has a solid technical team with a large number of completed and ongoing projects. We take a strong, professional approach as lead consultants, ensuring efficiency for developers and investors. Each project has a lead consultant and technical consultant in charge of each design stage, which is very important, especially to meet time and budget constraints. With an experienced, well-trained team, we are able to flexibly adjust design requirements and communicate with sub-consultants to deliver quality projects on time.

At Dewan Architects + Engineers, we aim to create a better world. As architects, we understand how the environment affects people's lives. We are dedicated to using design and construction methods that significantly reduce resource consumption and the negative impact of the building on the natural environment. Efforts to promote and nurture a strong sense of community throughout Vietnam as well as other Dewan offices globally. Our architecture and construction projects have inspired countries and local communities for decades.

In fact, I think: Whether foreign consultants have successful experience in Vietnam or not depends on each specific case and project. It is important to find a balance that benefits both internal and external stakeholders. The right combination of technology, education, and local resources can help create an environment where everyone can benefit from the presence of a foreign consultant.

Therefore, the role of foreign architectural consulting firms in Vietnam is necessary. The diversity of knowledge, experience, trends and information they provide helps the local architecture industry understand international standards and adopt more innovative approaches. With this support, Vietnam's architecture industry can continue to grow and develop, addressing the various challenges facing the country.
Architectural Forum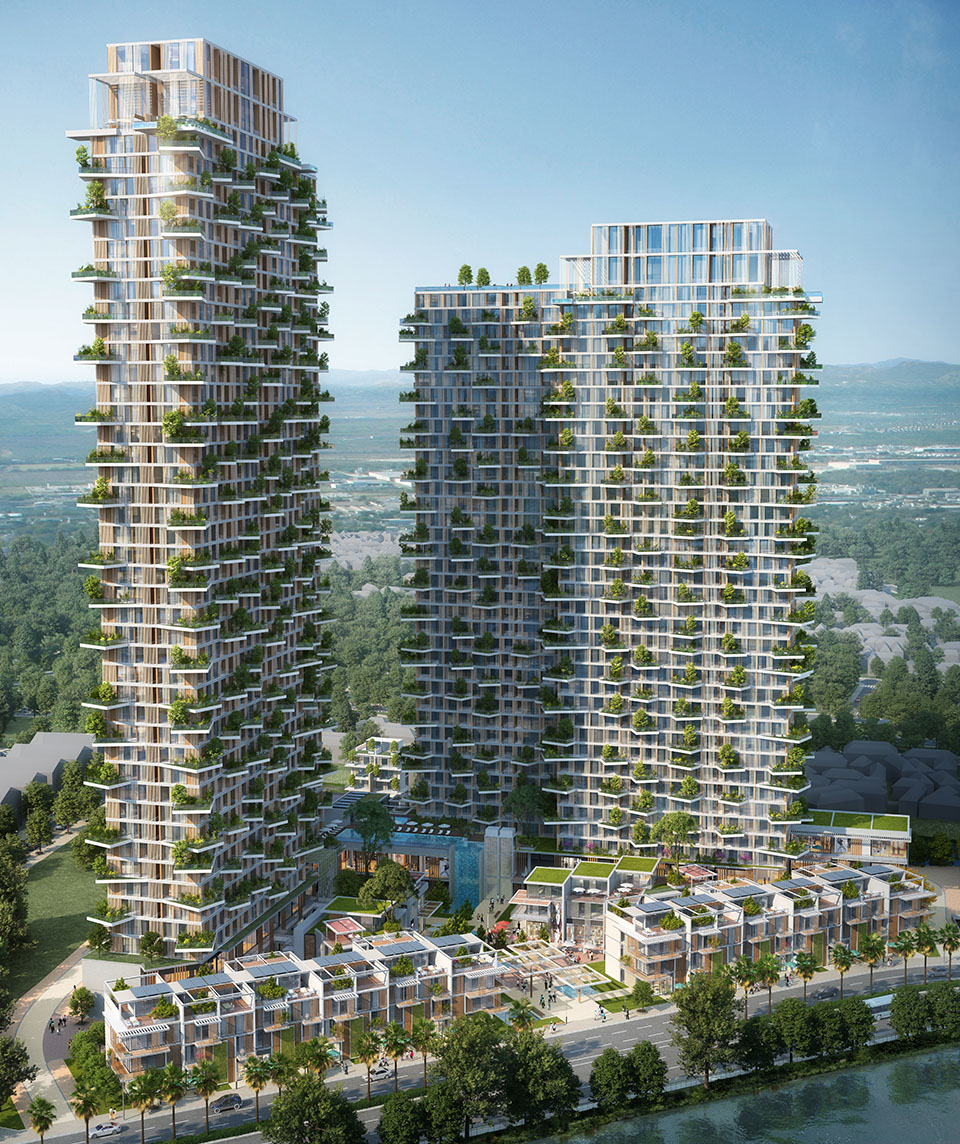 SOLFOREST ECOPARK, HANOI, VIETNAM
Throughout the 20th century, Vietnam underwent dramatic political and historical changes in how architects considered design. International architectural and design firms such as Dewan Architects + Engineers Vietnam has over four decades of international experience bringing a wealth of practical knowledge, a professional approach and innovative design ideas to the country.

Ranked 41st in the world as the best Global Design and Architecture firm, Dewan draws on its team's international experience allowing them to create unique projects and offer out-of-the-box Vietnamese thinking. Their unique approach allows them to blend their international knowledge and the Vietnamese culture to strengthen their quality offerings and client care.

Dewan has a robust and professional approach as lead consultants ensuring that communication is efficient and a pleasant experience for developers and investors. Each project has one lead consultant who takes care of each design and engineering consultant, which is crucial, particularly when meeting tight deadlines and budgets. Their well-trained and experienced teams can seamlessly align design and communications requirements with their sub-consultants to deliver on-time quality projects. As one of the leaders in hospitality design, with a solid technical team and an immense number of completed and short-listed future projects.

Dewan Architects + Engineers are passionate about creating a better world. As architects, they understand how their surroundings influence people's lives. Dewan is dedicated to employing design and construction methodologies that dramatically minimise resource consumption and the negative impact of buildings on the natural environment. They work hard to foster and nurture a strong sense of community across Vietnam and their other offices around the globe.

Dewan has been inspiring nations and local communities for decades with its extraordinary architectural and engineering projects.
Dragon Tower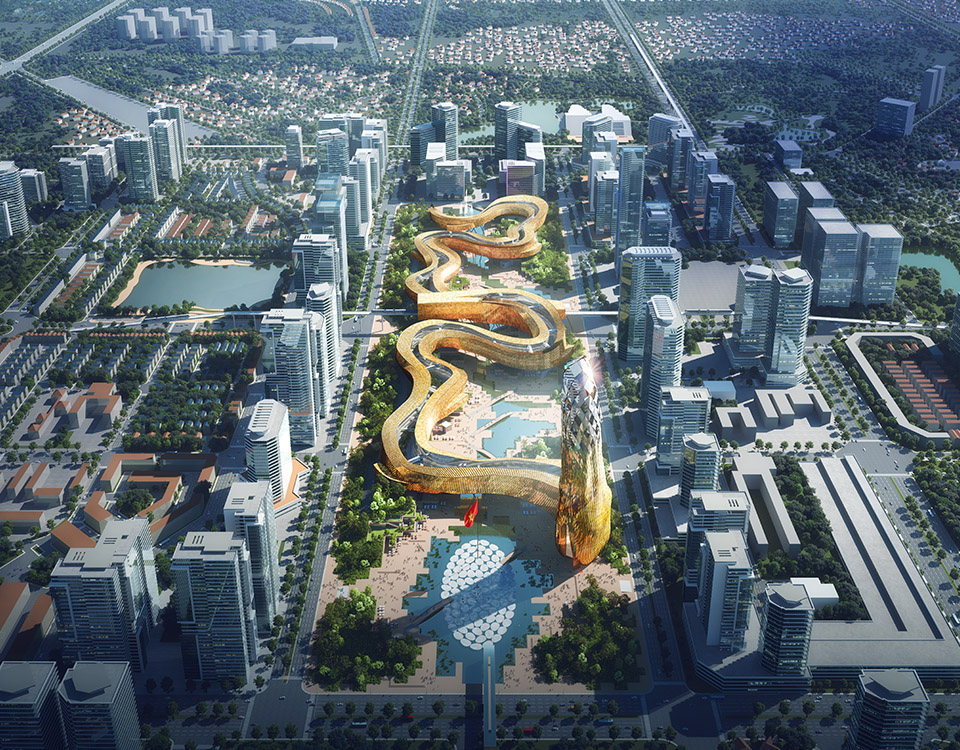 Inspired by the mountain fairy, in collaboration with TTAS, Dewan created artificial topography with stepped platforms encouraging interaction with nature, human interaction and annual monsoon seasons to prevent flooding creating a spectacular living landscape that changes with the weather. The lower floors will have the main lobbies and private meeting rooms that do not require natural light and complementary functions for the staff, and the public, including nurseries, a library, a supermarket, restaurants and learning centres. The ministries' main entrances are reached through a customised entrance designed by a nationwide student competition to identify the buildings and afford a connection to its community whilst highlighting a tribute to the older generations of Vietnam who built the country.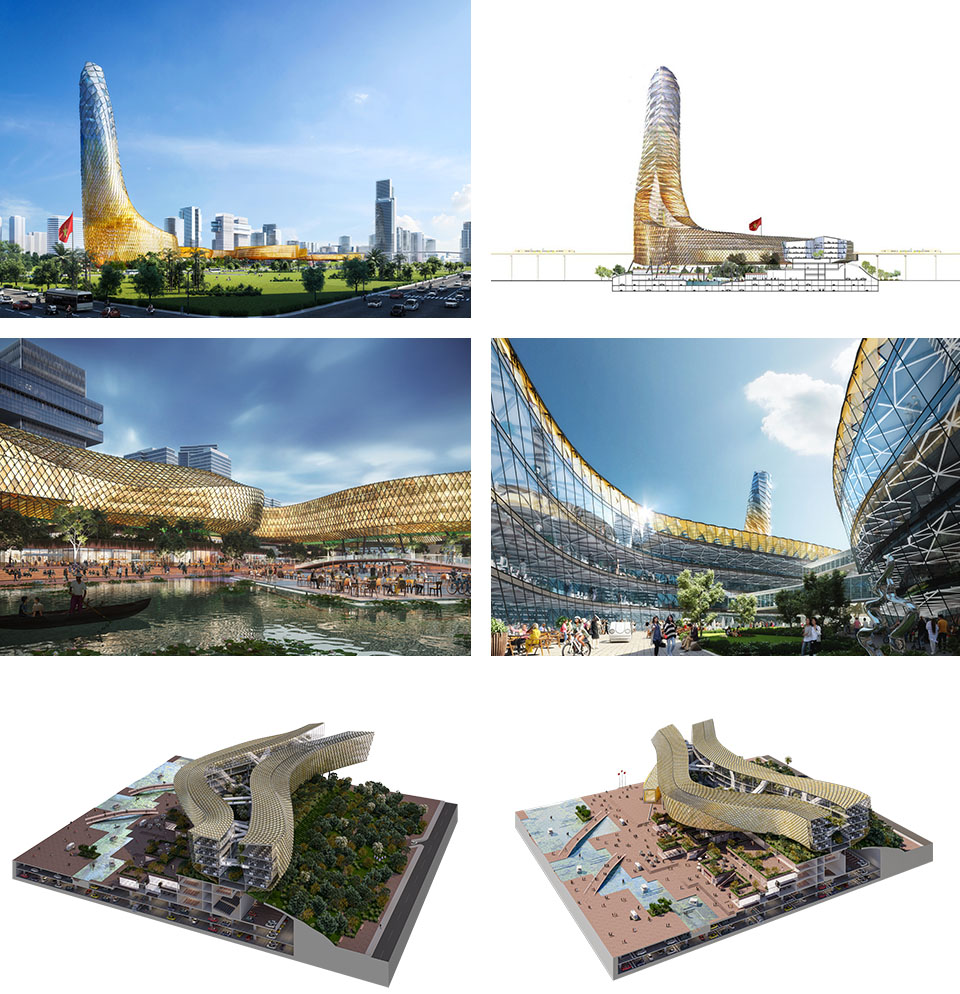 The dragon is characterised by its flexibility to accommodate a series of strips that can be added or removed. Dewan's ambition is to create the longest building globally, which will become the iconic landmark of Vietnam. It will be seen from space. The head of the dragon forms the impressive tower that is the tallest building in the area and is visible from the surrounding streets. The yellow hue of the façade is inspired by the presidential palace and is a tribute to the rich history of Vietnam. An impressive square in front of the tower houses 100 symbolic eggs. It will be utilised as a venue for national events and bears references to the legend of Lạc Long Quân and Âu Cơ.
Vung Tau Hotel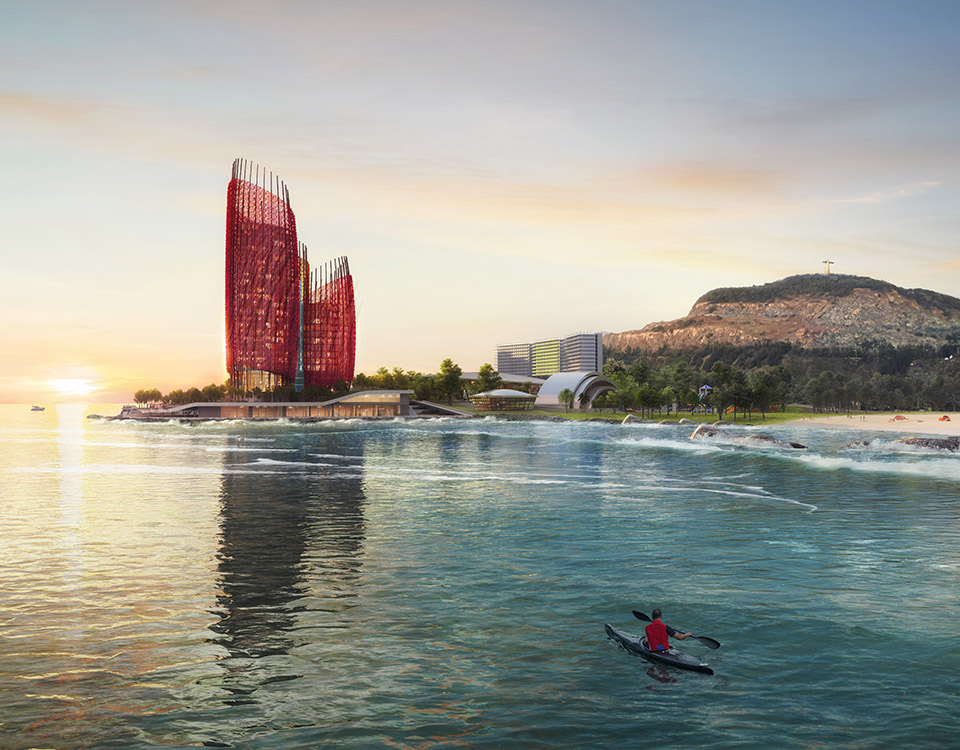 The six-star hotel Vung Tau Hotel integrates the interior and exterior on the southern point of Vung Tau island with views across Hon BA, the sea, the beach and the Jesus statue. Dewan proposed three linked towers to maximise the views from the hotel and afford guests a unique experience to enjoy geometries inspired by the surrounding landscapes in the presence of the sea.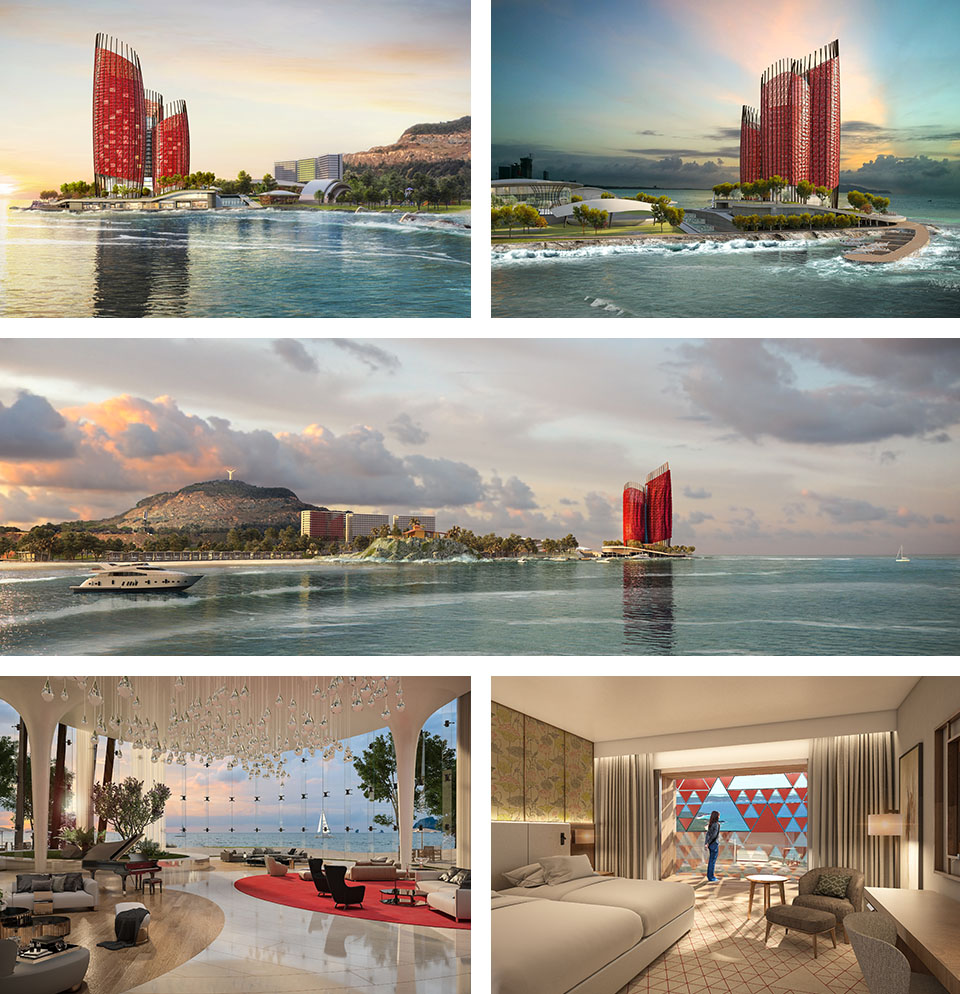 The commercial and indoor games area have direct access to the sea. The podium is covered with a 'landscape' carpet connecting the pool, all-day dining and the basement.
Amaala Triple Bay Yacht Club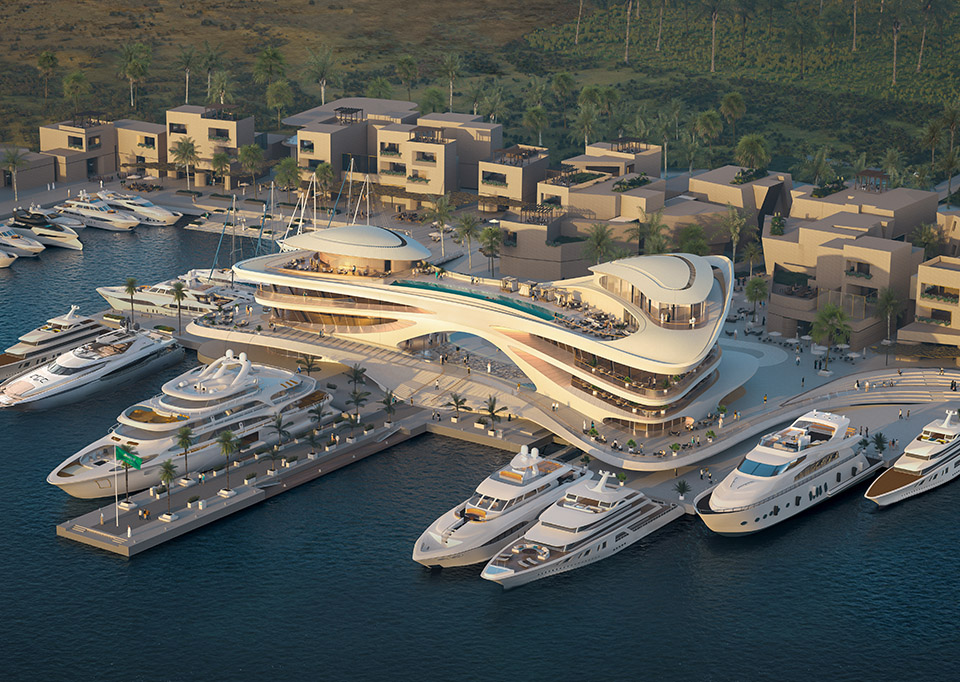 AMAALA's Triple Bay Yacht Club aims to create a unique meeting point between land and sea in the Prince Mohammed bin Salman Nature Reserve in Saudi Arabia. The keystone development will be a unique meeting point and free-flowing structure between the land and the sea.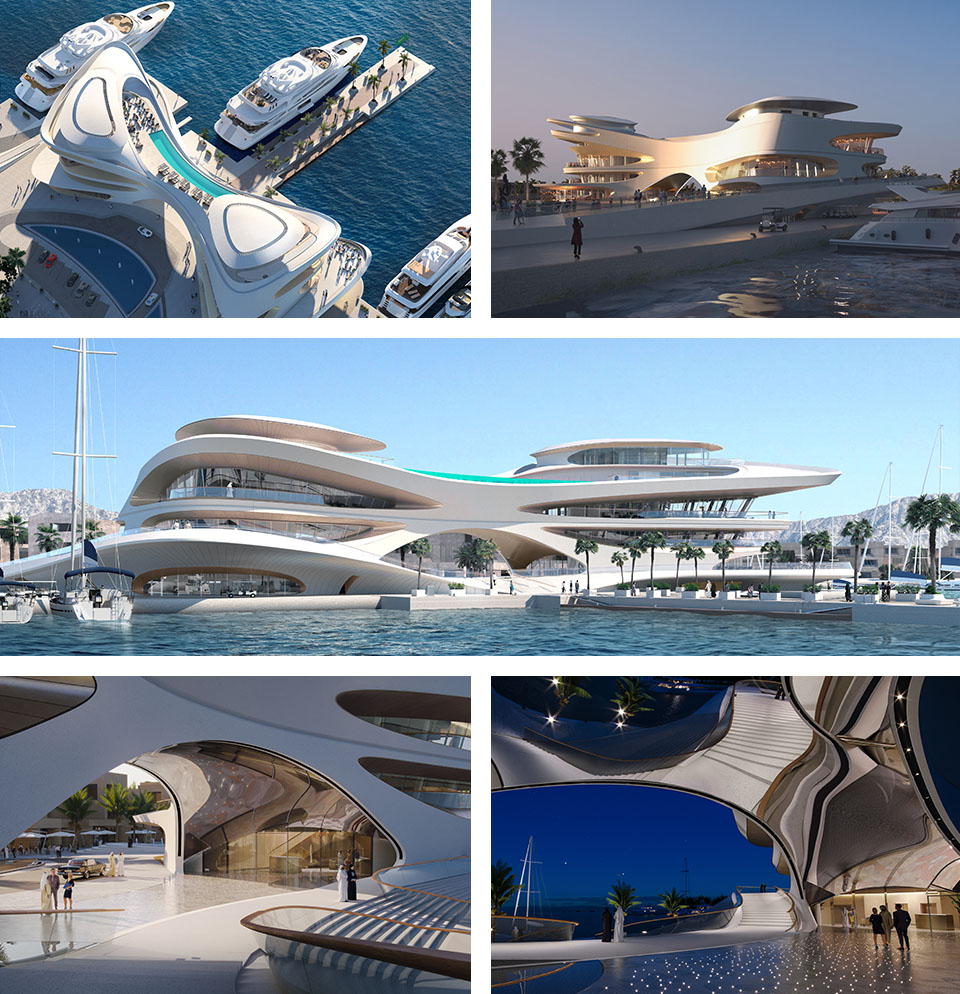 Set on four levels and covering 7,900 square metres, the ultra-lux club will create a home-away-from-home for its members who want to relax and participate in an exciting calendar of yachting events or do business. AMAALA is a core component of Saudi Arabia's Vision 2030 strategy to diversify the economy and enable rapid growth in the tourism sector.